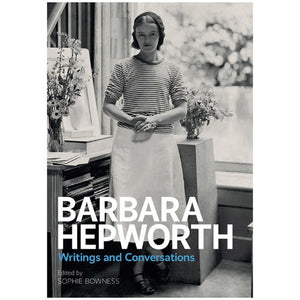 Barbara Hepworth: Writings and Conversations
Barbara Hepworth's work and ideas are illuminated in her own lucid and eloquent words in this first collection of her writings and conversations. The book makes available much that is out of print and inaccessible, and includes a significant number of unpublished texts.
A surprisingly large body of work, it spans almost the whole of Hepworth's artistic life, showing her innate gift for language and desire to communicate to the public. Alongside the writings are Hepworth's lectures and speeches, a selection of interviews and conversations with writers as well as radio and television broadcasts.
The collection sheds new light on Hepworth's life, her working practices, the sources of her inspiration, the breadth of her intellectual interests and her deep engagement with contemporary politics and society. The illustrations include manuscripts and archive photographs from Hepworth's own collection.