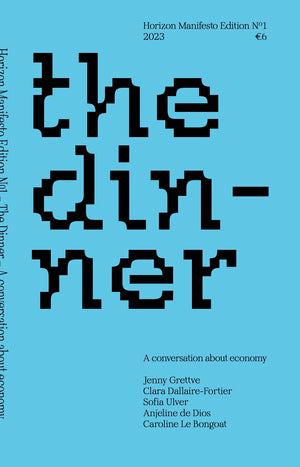 The Dinner
The Dinner — A conversation about economy
During a warm afternoon in May 2022, five women sat down to talk about economy. The setting was a large table inside an old empty train garage in Malmö, Sweden. The table was part of an art installation called Economic Spaces, created by Jenny Grettve and Dark Matter Labs. The invitation was open ended, no fixed orchestration was planned and the participants were not distinctively briefed. This paper is a transcript of the dialogue that unfolded.
"The Dinner" and the concurrent dialogue was a reply to an artwork by Joseph Beuys. In November 1984 he orchestrated a discussion which took place at the Meeting House in Ulm, Germany. "What is money" featured the radical artist himself, two professors (of Financial Sciences and Political Economics) and a banker. Beuys said that if we want to achieve a different society where the principle of money operates equitably, if we want to abolish the power money has developed over people historically, and position money in relationship to freedom, equality and fraternity then we must elaborate a concept of culture and a concept of art where every person must be an artist. The transcript of the dialogue plainly shows that unusual perspectives and artful ways of thinking are as serious and important as the voice of, for example, a banker.
The two conversations from 1984 and 2022 could
be seen as a dialogue between genders, between different eras and between distant planetary scenes. History repeats itself, life goes in cycles. But some of the deeper questions remain; What is life? How are we connected? What is economy? What is the meaning of it all?